15 Best Black Sand Beaches In Bali, Indonesia 2023: Full Guide
Although all sand is, after all, just sand, the coasts of the world provide a variety of coloured grain stretches that have emerged as a distinct appeal. Black sand beaches offer a unique experience unlike any other beach you may have gone to and have been around since the beginning of geological formation.
The distinctive black colour, primarily found on volcanic islands, is produced by basalt in the lava. This lava flows rapidly hardens upon impact with the ocean, fragments of which coalesce into coarse sand particles, both large and small.
Bali's east coast, which stretches from Padang Bai to Lovina in the north, is lined with black sand beaches. Even though the majority of them are far away, untidy, and warm during the midday sun, tourists are nonetheless drawn to them. So, if you enjoy black sand and don't mind getting your hands dirty, visit these marvels along Bali's coast that are strewn with pebbles.
1. Echo Beach, Canggu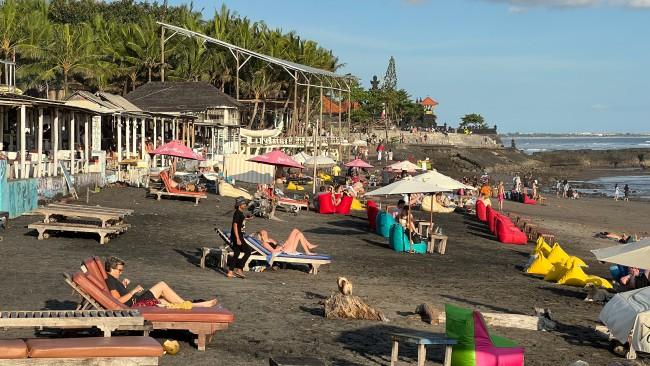 While Echo Beach in Canggu's muted coastline and grey and black sands may initially turn you off, the area's cool beach bars, cafés and green environs have turned it into a sanctuary for the younger set. The beach is the selling point because you may roam there for hours without seeing any salespeople.
This popular tourist spot, known in Balinese as "Pantai Batu Mejan," is only 50 minutes from Denpasar. On this black sand beach in Canggu, there is a Sand Bar that sells soft drinks and beer and a fish market if you want to grill some fresh seafood for yourself.
Related: Things To Do Bela Krajina Slovenia Travel Guide 2023
Book your flights to Bali far in advance for a budget-friendly way to enjoy the sun, sand, and sea in this coastal paradise.
2. Pererenan and Seseh
Between Canggu and the peaceful Seseh is the picturesque seaside village of Pererenan. It will be difficult to leave this place if you're looking for some laid-back Balinese action. These beaches are adjacent to Canggu and are accessible on foot from the well-known Echo Beach. Visiting here is more about taking in the surroundings and Bali's nearly empty black sand beach than checking off sights.
3. Pemuteran Beach
The charming beach village of Pemuteran is situated on the northwest side of the island, far from the noise and bustle of Bali. The spotless volcanic black sand beach here is tucked between the mountains and the sea and serves as the entry point to Menjangan Island, Bali's centre for snorkelling and diving. Pemuteran is the ideal location to re-connect with nature and rediscover peace of mind because it is more quieter than Lovina. The international airport is about a three-hour drive from the beach.
4. Purnama Beach, Gianyar
The gorgeous black sand beach of Purnama near Sukawati is among the most enticing features of Bali's southeast coast, though there are many more. Unlike similar beaches, the sand grains here are exceedingly refined and feel fabulous when walking. The beach is compact and offers visitors a tranquil setting. A distinctive shrine composed of pyramid-shaped reef rocks is also on the shore.
5. Nelayan Beach
In search of a unique black sand beach in Bali? So Nelayan Beach, with its artistic fishermen's houses, is a hidden treasure. You will be shocked to see a beach that isn't frequently visited in Bali's well-known Canggu neighbourhood. There is more than enough beautiful graffiti and murals on the huts to keep you returning for photos (if nothing else).
6. Keramas Beach
The glistening black sands of Keramas Beach are located in an unexplored region of Bali, just a short drive from Seminyak and
Sanur, but far enough away from mass tourism to be remote from the crowds. The stunning but utterly empty beach is framed by the contrasts of the ocean's turquoise waters and the sand's dark colour.
Related: Top 5 Safest Caribbean islands 2023: Full Guide
If you want some tranquilly, go to Keramas, and bury yourself in the coarse sand if you share the natives' belief that it has healing effects. Since there are no public transportation options in the remote location, the only ways to get to Keramas are by renting a scooter or calling a cab.
7. Jemeluk Bay, Amed
Because of the nearby reef's ease of access, the tiny fishing village of Amed has recently grown to be a prevalent dive location. Amed is home to the two well-known black sand beaches of Jemeluk and Lipah, separated from one another by a short distance to the south.
Due to the rapid increase in tourists, beachgoers can now stay all day (or all night) by hiring a sun deck from one of the many businesses on the beach. It is advised to rent a car because the drive to Amed takes about three hours. This will enable you to make stops along the road to take pictures of the breathtaking countryside.
8. Pantai Masceti Beach
The Pantai Masceti Beach is the place to go if you want to explore a unique beach on Bali's east coast. This one is undoubtedly the most beautiful among all the black beaches along the coast since it displays fine black sand in its purest form. Also, the region is entirely free of tourists and still exudes the beauty and spirit of a village. Due to Pantai Masceti's proximity to South Bali, a half-day journey is easily feasible. Since snorkelling is impossible off Masceti, a day trip or, at best, a single night is required to enjoy the area's black sand beaches fully.
9. Baluk Rening Jembrana
The well-known Baluk Rening Jembrana black sand beach is in the Nehara District in West Bali, 105 kilometres from Denpasar. Because of its reputation for treating several illnesses, this area's black sand is popular with tourists and residents. Jembrana, unlike other similar beaches in Bali, boasts lovely coastal scenery and many cafes and restaurants to accommodate the large numbers that flock to this beach, especially on weekends.
10. Lovina Beach
Driving from Kuta down to Lovina Beach is the best way to get there. The trip takes around three hours, but there are several attractions along the way to keep you entertained the entire time. Grab a beach umbrella and head to Lovina if you want the ideal Bali black sand beach vacation. Early in the morning is an excellent time to see dolphins because of the quiet surf and warm water. The broadwalk is lined with many excellent restaurants providing fresh seafood and art galleries. The most beautiful sunsets in Bali may be seen at Lovina, a little beach with a more tranquil atmosphere than other regions.
11. Kedungu Beach
Another black sand beach in Bali is Kedungu. This spot attracts a lot of residents for sunset and is quite busy (And sadly dirty). Nonetheless, a charming waterfall and dark lava rocks provide fantastic photo backdrops and shade from the oppressive Bali sun.
12. Lipah Bay, Amed
Lipah beach is located in a protected cove about 10 kilometres from Jemeluk and fifteen minutes' drive east of Amed. Shallow diving is popular at Lipah Beach because of a WWII Japanese patrol boat shipwreck that is located very near to shore at a depth of 3 metres. The black sand beach is ideal for snorkelling and features gritty black sand. Keep in mind to wear shoes because after noon the black sand gets extremely hot.
13. Mayo Resort, North Bali
Suppose you're looking for a deserted black sand beach. In that case, there is a calm section directly across from the Mayo Resort in Seririt, a peaceful beachfront village west of Lovina—an excellent location to watch the sunset over the lovely Bali Sea without a single in sight. If you spend a few nights in this vast region north of Bali, staying at Lovina, well-known for its black-sand beaches, is best.
Related: 12 Top-Rated Resorts in Maine 2023: Full Guide
14. Lepang Beach,Klungkung
Around 27 kilometres from the centre of Denpasar, this magnificent black sand beach is situated in Takmung, Klungkung, far from the hustle and bustle. The beach here turns jet black when the seawater covers the beaches, adding to its unique attractiveness. Moreover, Lepang Beach has been established as a refuge for Oliver Sydney turtles to lay their eggs. One of the rare beaches in Bali that offers spectacular views of both the sunrise and sunset is this one.
This film highlights some incredible black sand beaches in Bali, Indonesia.
15. Mengening Beach, Cemagi
Its unique black sand beach is situated beneath a high cliff and is flanked on all sides by some of Bali's most breathtaking natural settings. Bali's Mengening Beach is found in the Bandung Residency and is reachable by car within one hour from the airport. A sacred shrine is nearby, a lovely black sand beach with clear, blue waters and low cliffs that are great for rock fishing. Although few tourists are in the neighborhood, locals gather there around dusk.
Which beach in Bali has black sand?
Bali's Black Sand Beaches at a Glance

Jemeluk Bay, Amed. Amed Beach, Amed. Lipah Bay, Amed. Lovina Beach, North Bali.
Which is the most beautiful beach in Bali?
Best Bali beaches
Blue Point Beach. Where is it? Ungasan. What is it? …
Geger Beach. Where is it? Nusa Dua. …
Pemuteran. Where is it? Gerokgak. …
Bias Tugel Beach. Where is it? Karangasem. …
Seminyak Beach. Where is it? Seminyak. …
Kuta Beach. Where is it? Kuta. …
Karma Kandara Beach. Where is it? Uluwatu. …
Balangan Beach. Where is it? Kuta.
Where is the most beautiful black sand beach?
Senggigi Beach, Lombok, Indonesia. …
Miho-no-Matsubara, Shizuoka City, Japan. …
El Golfo, Lanzarote, Canary Islands. …
Kamari Beach, Santorini, Greece. …
Anse Couleuvre, Saint-Pierre, Martinique. …
Karekare Beach, Auckland, New Zealand. …
Black Sands Beach, Sausalito, California. …
Playa Jardin in Tenerife, Canary Islands.
What is the most famous black sand beach?
20 Best Beaches With Black Sand Around The World
1- Papeno'o Beach, Tahiti.
2- Santo Domingo, Philippines.
3- Paiola Beach, Hawaii.
4- Playa Cavones, Costa Rica.
5- Karekare, New Zealand.
6- Perissa, Santorini.
7- Playa Negra, Vieques, Puerto Rico.
8- Punalu'u, Big Island, Hawaii.