11 Best Beaches In California: North to South 2022
Although the beach days are coming to an end here, they are not like that in other parts of the world. Today I come to present my compilation of the 11 best beaches in California.
To carry it out, I have taken into account the landscape in which they are located, the views they offer, the natural characteristics of the terrain, its extension and the type of people who frequent the beach.
One of the first things that come to mind when imagining California is long beaches with people strolling in swimsuits or skating along boardwalks or hikers crossing cliffs. And it is that the shores of California satisfy all kinds of visitors.
We consider the views, the landscape, the people who frequent the beach, the natural features to discover, the ability to walk, and more.
What Is The Best Time To Travel To California?
In this section, we will focus on the best time of year to visit California for a beach vacation. Depending on the activity you want to do, it will lean more towards one month or another.
The climate of the West Coast is mild and pleasant, very similar to the Mediterranean climate. Summers are dry, and it doesn't rain excessively during winter. In fact, in the southernmost areas of the Californian coast, the heat lasts throughout the year.
The best months to go to the beach in California are July and August. Travelling in both months, you ensure optimal weather conditions. However, you can extend the period further; June and September are two perfect months to enjoy the Californian coast.
The seawater is around 19-20 degrees, and a light breeze blows that will make you relax and cool off from the temperatures, which range between 25 and 30 degrees Celsius.
11 Best Beaches In California: North to South
California Beaches: North Zone
1. Carmel City Beach
Tucked away by glistening Carmel Bay, Carmel City Beach has a shoreline more than a mile long with sparkling white sand, deep blue water, and oceanfront cypress trees.
Despite the water temperature, cold enough to fool you, its cliffs covered with vegetation in front of a snow-coloured beach make it a perfect setting for a beautiful sunset.
2. San Gregorio State Beach
San Mateo County has thousands of incredible beaches, but San Gregorio State Beach is very special. It has trails to explore the cliff and picnic area. But its charm is not there.
Behind the beach, there is a stream and a lagoon where the birds feed and rest. And continuing the creek path, there are easily accessible cliffside caves where you can find unique rocks and fossils.
3. Natural Bridges State Beach in Santa Cruz
The namesake rock arch of Natural Bridges rises above the waters of the Pacific Ocean, a short distance from the urban centre of Santa Cruz. It is a curious structure that sparks the imagination and instils the thought of a rock metropolis that vanished into the ocean centuries ago.
To complete that imaginative halo, thousands of monarch butterflies migrate each year in fall, and winter and whales, seals, birds, and other coastal animals can be spotted.
California Beaches: Central Zone
4. East Beach in Santa Barbara
East Beach runs the length of the heart of Santa Barbara, at the eastern end of State Street, the city's main drag.
Stretching from the pier to the Andree Clark Bird Refuge, it hosts volleyball championships and a variety of popular events. An excellent place to walk, ride a bike or observe sea birds, apart from sunbathing and a good swim enjoying the beach atmosphere of Santa Bárbara.
5. Pfeiffer Beach in Big Sur
It is one of the best beaches in California, but it is not recommended for swimming or sunbathing. The best things about Pfeiffer Beach are the stunning surrounding cliffs and rock formations like the iconic Keyhole Rock. It is very photogenic with the lighting provided by the sunset.
Most famous for its violet-hued sand, Pfeiffer Beach is a beautiful unspoiled destination popular with locals and relatively unknown among Big Sur's tourists.
The beach is well worth visiting; the beach has eye-popping offshore views of stunning sea stacks and rock formations and is occasionally suitable for surfing. Because it faces west, it's an exceptional place for sunset photography, especially with the purple sand adding that extra oomph of dreamy saturation.
6. Downtown Avila Beach – Best Beaches In California
Avila Beach is an unincorporated community in San Luis Obispo County, California, United States, located on San Luis Obispo Bay about 160 miles northwest of Los Angeles and about 200 miles south of San Francisco. The population was 1,627 at the 2010 census.
Between San Francisco and Los Angeles, Downtown Avila Beach is a family destination with barbecues, sea caves, volleyball courts, golf courses, art galleries, shops and much more. A place where both the little ones in the house and the adults can have fun.
California Beaches: South Zone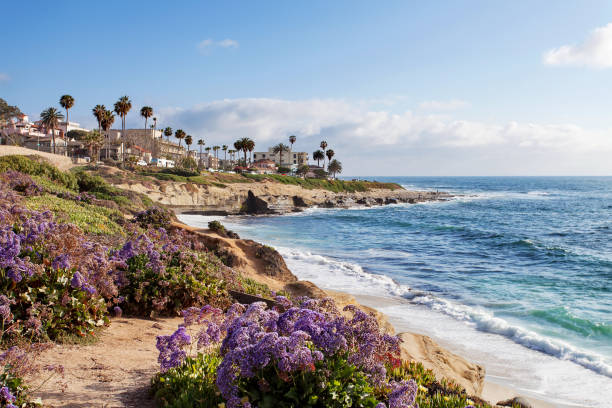 7. La Jolla Shores – Best Beaches In California
The San Diego area has beautiful beaches, but La Jolla Shores is at the top. It is a beach of soft and sandy sand between cliffs carved by the waters of the ocean.
Although it can be crowded at times, its expanse makes it easy to get away and explore. Be it kayaking, paddleboarding, diving, and riding the waves on a surfboard. It's the best in every way. If you are heading north, there is a small semi-Jewish part known as South Black's Beach.
Also, to the north, you'll find the Scripps Institution of Oceanography, research, education, and public service centre for oceanic, terrestrial and atmospheric sciences open to all who wish to visit.
8. Coronado Beach – Best Beaches In California
The most notable feature of Coronado Beach is the colour of the sand. Due to the high concentration of silver and pearly minerals called mica, the sand on the beach glows in the southern California sun.
Very close to Mexico, Coronado Beach is perfect for surfers. Thanks to its extension, it allows quiet walks along Ocean Boulevard and its mansions. The waves of the Pacific Ocean on the other.
9. Santa Monica State Beach
Santa Monica Beach is known worldwide, among other things, for hosting the Pacific Park amusement park in its iconic pier, the Looff racetrack, the aquarium, several restaurants and the Muscle Beach outdoor gym.
The south part of Santa Monica State Beach is located south of the Santa Monica Pier and north of Venice Beach. On the other side of the pier, you'll find North Beach. The city of Santa Monica operates this California state beach, and Los Angeles County provides the lifeguards.
10. Venice Beach in Los Angeles
Venice Beach is not famous for its actual beach but for being a lively and eclectic neighbourhood. Street artists flood the boardwalk alongside graffiti, shops, restaurants, and even tattoo studios. Here, alongside vibrant artists and writers, the bodybuilders of the Venice Muscle Beach outdoor gym coexist, creating an excellent performance in front of the sea.
Known for its bohemian spirit, Venice is a buzzing beach town with upscale commercial and residential pockets. The free-spirited Venice Boardwalk is the site of funky shops, street performers and colourful murals.
11. Zuma Beach In Malibu – Best Beaches In California
Zuma Beach is easy to recognize. It has been the scene of Baywatch, Planet of the Apes and An Indecent Proposal.
Its appeal lies in the length of its white sand beach and crystal clear waters, ideal for surfing. Despite having all the attractions to be one of the busiest beaches in Malibu, on the contrary, it is not usually as crowded as other nearby California beaches.
It also has showers, sun loungers, equipment rental for water activities, bars, restaurants and a large parking lot, although not free.
Frequently Asked Questions: 11 Best Beaches In California
What's the cleanest beach in California?
Laguna Beach, a seaside artist village and resort destination in Orange County, California, has been selected as one of the cleanest beaches in America. Located halfway between Los Angeles and San Diego, Laguna Beach has over seven miles of coastline and 20 pristine coves and beaches.
What is the warmest beach in California?
The Balboa Peninsula provides shelter from the open Pacific to make Newport Beach waters the warmest in California year-round.
What is the cheapest beach town in California?
Where are the cheapest places to live in California by the beach? Ventura in Los Angeles is an affordable California beach town to live in if you want to be somewhere with beautiful views and lovely weather. Some other inexpensive coastal cities to live in California are Long Beach, San Pedro, and Eureka.
Which is better, Laguna Beach or Malibu?
Most people who have been to Malibu comment on how quiet the beaches are in California compared to Laguna Beach. That's not to say it's without its crowds, especially during the summer months. In terms of shopping and being 'in town,' Laguna Beach does have the edge.
What is the safest beach in California?
Coronado Beach is also the safest beach in California for swimming. Towards the shore, the waves are very gentle, and the waters are usually calm and clear that you can easily see what you're stepping on. It also features numerous lifeguard stations, making the area safer.
Is 70 good beach weather?
Between 70 and 75 is the best temperature for comfortable swimming. Anything below that feels cold, and anything approaching 80 or above feels like bathwater and unpleasant (for the ocean).
Related Searches:
California Beach
Best Beaches In California For Couples
Best Beaches In California To Swim
Top 10 Beaches In California
Best Beaches In California For Families
The Best Beaches In Los Angeles
Best Beaches In California (2021)
Best Beaches In Southern California
10 Best Hotels In Newport, Rhode Islands: Places To Stay 2022
Best Time To Visit Galapagos Islands: Weather & Wildlife by Month 2022
Best Time To Visit London: Weather, Temperature, Climate 2022
10 Best Hotels In Tampa, Florida In 2022: Ultimate Guide
Can Unmarried Couples Live Together in Dubai (UAE) in 2021 & Onward?